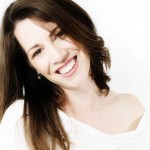 While I was in New York City  for Blogher I had a chance to sit down with Neha from Greenista. We had lunch at Cafe Blossom, an organic vegan restaurant, located in the Upper West Side of Manhattan.
Now… to be fair,  when I eat out I lean towards conventional restaurants.  When Neha suggested Cafe Blossom I threw caution to the wind and went for it.  I was after all – on my own in NYC…  and I  write a naturally focused organic and eco blog after all…
Sitting down to order was a challenge for me.  Being a vegan restaurant meant  they had no dairy – which meant no cafe latte for me and even though it was lunch, I had been packing all morning and really could have used that coffee!  I settled for Earl Gray Tea with agave and lemon… steeped in a thimble sized cup.
Note to Cafe Blossom – if you are going to serve tea – serve it in a teapot or at least a cup that holds more than 4 oz of water.  It took us 20 minutes to get more hot water to dilute the bitter tea.
Back to the menu…. I contemplated the Black Eyed Pea Cakes – but not being a fan of the black eyed pea – that seemed risky.  I considered the Autumn Sweet Potato Rolls, but was fairly sure I would be wishing for rice noodles while I munching on their raw coconut noodles and I wondered where the rest of the dish was for the Peas and Carrots – if it's delish – it needs to be renamed!
I ordered the mushroom soup – which never made it to my table -  and the Veggie Grain Burger with sweet potato fries.  The sandwich my have looked a little plain, but it was delicious.  I didn't miss the cheese at all (and I always miss the cheese!) and had the server ever returned I would have loved a little more of the yummy hummus.
Overall, service was a little too laid back for my style.  No one checked on our meal, to get more water for our tea I had to get up… twice… and by the time we flagged a server to get get our bill, we didn't even have time to see if they billed us for the mushroom soup that never arrived.
After a little trepidation about the menu, I found the food to be very enjoyable.  I just wished the staff had shown even the tiniest care in serving their clientele, on the upside if you are looking for a vegan restaurant where they will leave you to linger in NYC this may be the spot for you!